Goldgarn Charity

From Mannheim To The World
We see it as our duty not only to pursue a sustainable value chain in the product cycle, but also to actively help shape the future now, which for us begins in the present.

So we support since the birth of our Goldgarn-Jeans the social project 'Aufwind',which supports socially disadvantaged children in our hometown Mannheim.
Bangladesh Water Project
Under the roof "Goldgarn Charity" we will now initiate and implement further projects besides 'Aufwind Mannheim'. In August 2020, the production of 13 drinking water wells in Bangladesh was completed, which was implemented in cooperation with Help Me e.V. Ludwigshafen.
A friendly relationship has existed here for a long time, which made us aware of the miserable conditions in the first place. Health care, hygiene, but also simply the basic human right to drinking water are not given there and reflect once again the discrepancies of our society. This is where we would like to start and help!
The first drinking water wells have already been installed and are now pumping clean and safe drinking water from a depth of 150m to the surface free of charge for the local population. These 13 wells alone will provide approximately 2,000 people with guaranteed access to fresh drinking water. And they will not be the last wells to be built with the slogan "from Mannheim to the world", helping where they are urgently needed.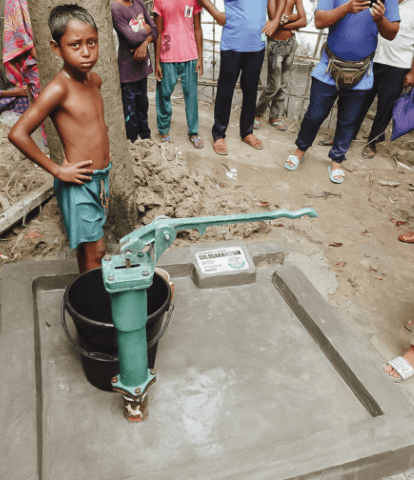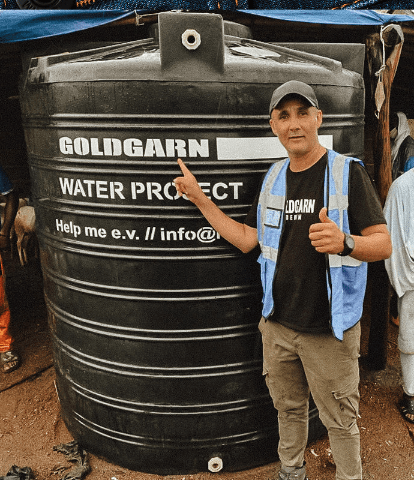 Mali Water Project
Goldgarn Denim supports a refugee camp in Mali, West Africa. Here, the non-profit organization Help Me e.V. is also in charge and continuously supplies approx. 200 families there with fresh drinking water.
The infrastructure there does not allow to pump drinking water, therefore large drinking water tanks (3.000L - 5.000L) are delivered to the suffering people in a weekly cycle to ensure a basic supply in this way. We have taken over the sponsorship for 5 water tanks. With the purchase of a pair of jeans from Goldgarn Denim you automatically make an important social contribution and support us on our way to make the world a little better.
For every pair of jeans sold, €1 goes to the "Goldgarn Charity" initiative and is donated to targeted charitable projects according to need and need.